Top 10
Top 10 Fashion Brands (women) Of Pakistan – 2020.
Who are these fashion brands amongst the plethora of the names, who transformed the traditional 'net 'dupatta' with 'sitaray' (sequins) had been done for years and years into a unique form of style and clothing… These creative minds have changed the outlook of the Fashion and Textile Industry of Pakistan by producing an array of clothing and changed the weaving patters forever. The Top 10 Fashion Brands are listed below in the blog.
"Fashion is an instant language, what you wear is how you present yourself in today's world, Fashion is helping the Pakistani economy and the only Industry which stand out our country and showing the brighter side and a positive image of Pakistan in the world"…
Gone are the days when these refreshing designs of summer LAWN –carried by the female models on 20 ft long billboards. The Officials started stripping these (so-called illegal) Billboards –at the beginning of spring –from Karachi to Khyber it seems like Pakistan only produces the 'summer lawns'.
The 'lawn madness' always tipping the point at the time of sale conduct by any of these super multitalented Designers with endless designing ideas, thousands of female customers including girls, Aunts, and even grandmothers all eager to hands-on the lawn suits or anything available in these Stores on Sale without looking at the price tag.
Steer the conversation back to our 'Top Fashion Brands of Pakistan', just before COVID-19 outbreak, these summer sales invite a lot of attention. The overwhelming response by the female customers sometimes creates a crazy situation for others and for themselves too. These brands are ruling the entire market by their hues and vibrant colors and revolutionized the 'Dulhan / Shadi ka Jora' (wedding wear) by their readymade or ready to wear clothes available in their Stores.
More and more designers are joining the bandwagon of printed lawn business as it is a fusion of many things. Our blog is not just focusing on the Textile l Fashion giants only, there are many big names like Ammar Belal, BEECHTREE, Bunto Kazmi, and many more.

Through Sales Professional Forum, we share with our readers the most promising Top Ten mavens (ready to wear / un-stitched) of the Textile and Fashion Industry. These brands are the manufacturers with state-of-the-art dyeing plants also operating hundreds of outlets across Pakistan and tens abroad.

Al KARAM –
Al Karam was incorporated in 1984 and converted to the public in 1987 but it was started as a vertically integrated composite textile mill in 1986
Al Karam, famous for digital printed lawn suits for women, had been the market leader for wash n wear and cotton unstitched suits for Men (Chairman 'Lathha') for the last 34 years.
In the Fashion Industry, Al Karam used to be famous for providing premium clothing for many designers like HSY, Sana Safinaz, and partnered with Umer Sayed and work for other fashion gurus in the past years.
Al Karam Studio (flagship outlets) was built on the strength of Al Karam Textile Mills, Landhi-Karachi with International E-commerce presence and an official outlet in New Jersey, USA.
More than 58 big outlets/stores (including 46 exclusive AK Studios) and hundreds of local shops located across Pakistan right from Karachi to Mardan (KPK), offering Al Karam Products. Al Karam offers a full range of clothing and accessories for Men, Women (ready-to-wear and haute couture), and Kids to Home-wares and Home-Textiles.
"The trend is changed… Did you ever consider wearing LAWN in the evening event years ago'….
Gul Ahmed –
Gul Ahmed began trading in the early 1900s and incorporated as Gul Ahmed Textile Mills Limited in 1953. Today, GTM is a composite unit. It has the most sophisticated dyeing and processing unit in Karachi with an installed capacity of 130,000 spindles and 300 advanced weaving machines. GTM is a very environmentally friendly company and by not discharging toxic metals directly into the sewerage, GTM processing its liquid industrial effluent and these practices brought GTM to the National Environmental Quality Standards levels.
"Ideas by Gul Ahmed" is an expansion of GTM, it was established in 2003 and established itself as one of the leading manufacturers of a wide range of Bedding, Home Accessories, Bed n Bath (Towels, Bathrobes) and Kids garments. GTM is operating through 65 retail outlets, 30 fabric stores, 6 franchises, and 2 fair price shops in Pakistan.
Making excellence from day one, Gul Ahmed is a fabulous brand making unstitched and stitched local and western wearable antiquated in women fashion.
J. (Junaid Jamshed) –
J. (pronounced: Jay Dot) makers of non-alcoholic Fragrances, high-quality make-up, presenting their stitched dresses through mannequins (instead of female models) and endorsed by our legendary personalities and media celebrities. J dot is exclusive in following Islamic marketing practices.
Junaid Jamshed (late) started this journey decades back from 'Kurta Gali, Tariq Road' Karachi by catering just men's wear then forayed into JJ women's printed Lawn and JJ Kids and other accessories.
Almirah (operates under the umbrella of U & I Group) and an exclusive brand of J dot is an expensive elegant and high-quality luxury fabric.
Almirah breaks the norms of late Junaid Jamshed and markets its exclusive supreme very expensive clothing line by taking pictures of models and celebrities like 'Adnan Siddiqi' (for its crisp Cotton wear for Men 'BURAQ') and finest fabric 'Kameez Shalwar, waistcoat' collection inspired by 'Wasim Akram'.
Khaadi –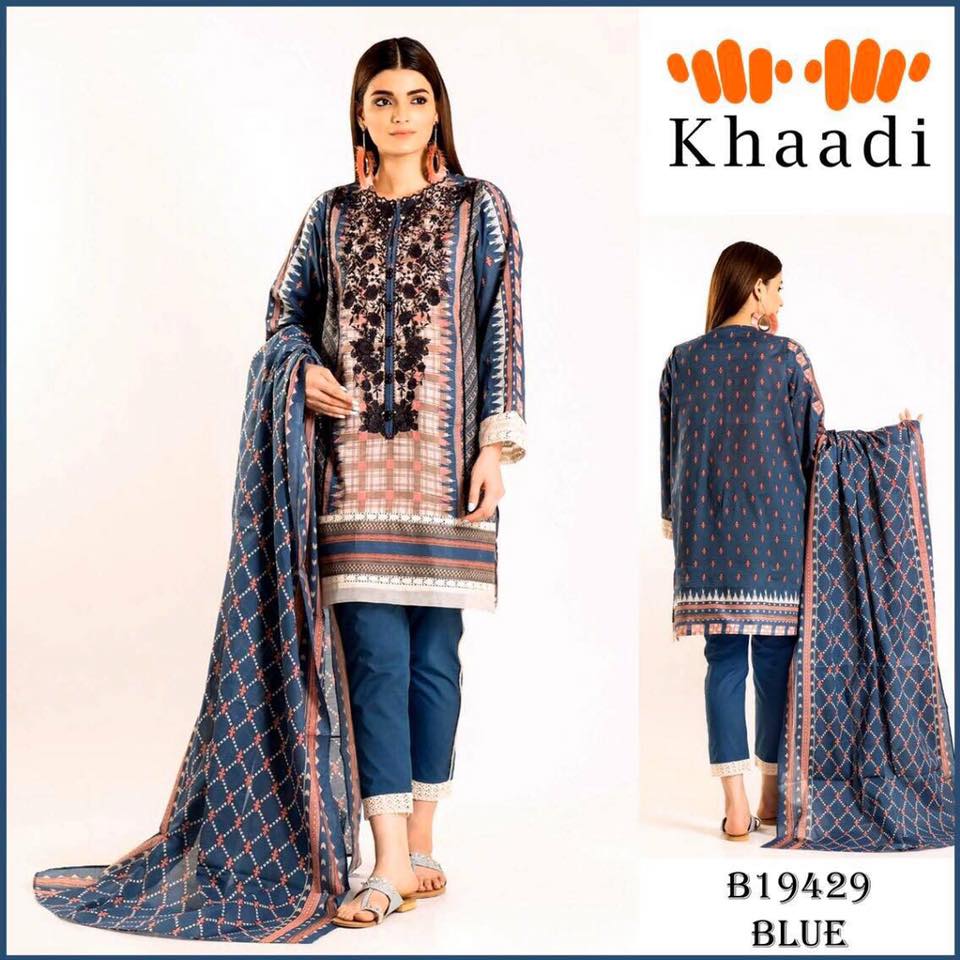 With his innovative approach, 'Shamoon Sultan' the guy behind Khaadi inspired by a global fusion transformed a simple desi (hand-woven) 'Khaddar Kurta' (Urdu) into a much transformed daily wear and set a trend throughout the urban areas of Pakistan. This contemporary infused-culture manifests itself within all his designs. As we mention that Khaadi is inspired by global fashion trends, it helps Khaadi to capture the market and bringing an unparallel and brand loyalty among its customers. Once Khaadi always Khaadi, no other brand can replace it from Karachi to Qatar.
Khaadi is operating through its 52 brick and mortar stores where an International representation of a brand can be seen by its 21 stores located in Bahrain, Qatar, UAE, and the UK.
"Shamoon is exceptionally the biggest entrepreneurial success in Pakistan. He achieved the biggest milestone and his exceptional sustainable growth established Khaadi a market leader in the Pakistani Fashion / Textile Industry by its biggest retail network locally and internationally'.
MARIA B. –
Focusing on ready-to-wear fashion, MARIA B. was started in 1999 with just one retail outlet and a small stitching unit. Maria B. is a renowned and recognized brand both local and international. MARIA B. famed for being one of the most expensive Fashion clothing brands with a retail network of more than 25 standalone, franchises, and mall outlets in Pakistan and also exporting to Bangladesh, India, UAE, and the UK.
MARIA B. was the first brand to use 'Swarovski' (Austrian producer of a laboratory-created range of cut glass by AG Canada and an essential component for high-end fashion houses like 'Prada' and 'Dolce & Gabbana') in 2016.
MARIA B. is based in Lahore and its fashion brands deal with prêt a porter, Lawn, Linen, Embroidered fabrics, luxurious bridal wear, formal, cotton wear and 'haute-couture' (Haute: high, couture: needlework, a French word for high dressmaking of exclusive custom-fitted clothing with no price tag where budget is not relevant, made from very high quality and very expensive unusual fabric by most capable sewers (darzi).
Maria B.'s Mkids is designed for ages 2-14 and also made a big name in Europe too…
NISHAT Linen –
Established in 1951 and opened its first outlet in Lahore in 1992, NL is well known for its astounding floral designs, beauty in the colors, modern cuts, and supremely eye-catching prints. Nishat is a Lahore based company which sells un-stitched and ready-to-wear clothes for women, men and kids. NL production facility includes spinning, weaving, and processing of Textile and its related products.
With over 670 Stores nationwide and International presence in Canada, UAE and UK, Nishat Linen specialized in manufacturing 'Fusion Tops', 'luxury Pret', Bags, Jewelry, Wraps, Footwear, Camisole for women. 'Naqsh' is a clothing range for Men. NL has a very wide range of Home Linen from Bed Linen to Cushion, Towels, and Table Linen.

Outfitters
In order to cater to all segments like Kids, Men, and Women, Outfitters has separate product lines. Outfitters was established in 2003 with a vision to serve the youth of Pakistan who is trendy and enjoys indulging in the latest designs and keep on changing their styles.
The youth of Pakistan is expressing themselves through 120 stores across the country while Outfitters help them choosing the best products and fulfilling their desire for wearing western fashion wear from the wide array of 'athleisure garments' (comfortable and casual clothing designed for both exercise and everyday wear), footwear and fashion accessories.
"Outfitters has successfully developed a unique model that is open to adapt the persistent and unceasing change occurs during the season and be able to respond to the key trends and develop them into wearable fashion in a very short time".
ETHINIC
Ethnic Was launched by the Outfitters in 2013 is a designer ready-to-wear brand. Outfitters' customer retention by its innovative designs and styles synonymously made ETHNIC versatile and a powerful casual brand for women.
Dresses designed by the Outfitters alluded to the western attire that is usually worn in those countries but still, Outfitters designs are one of the most loved outfits in Pakistan.
SANA SAFINAZ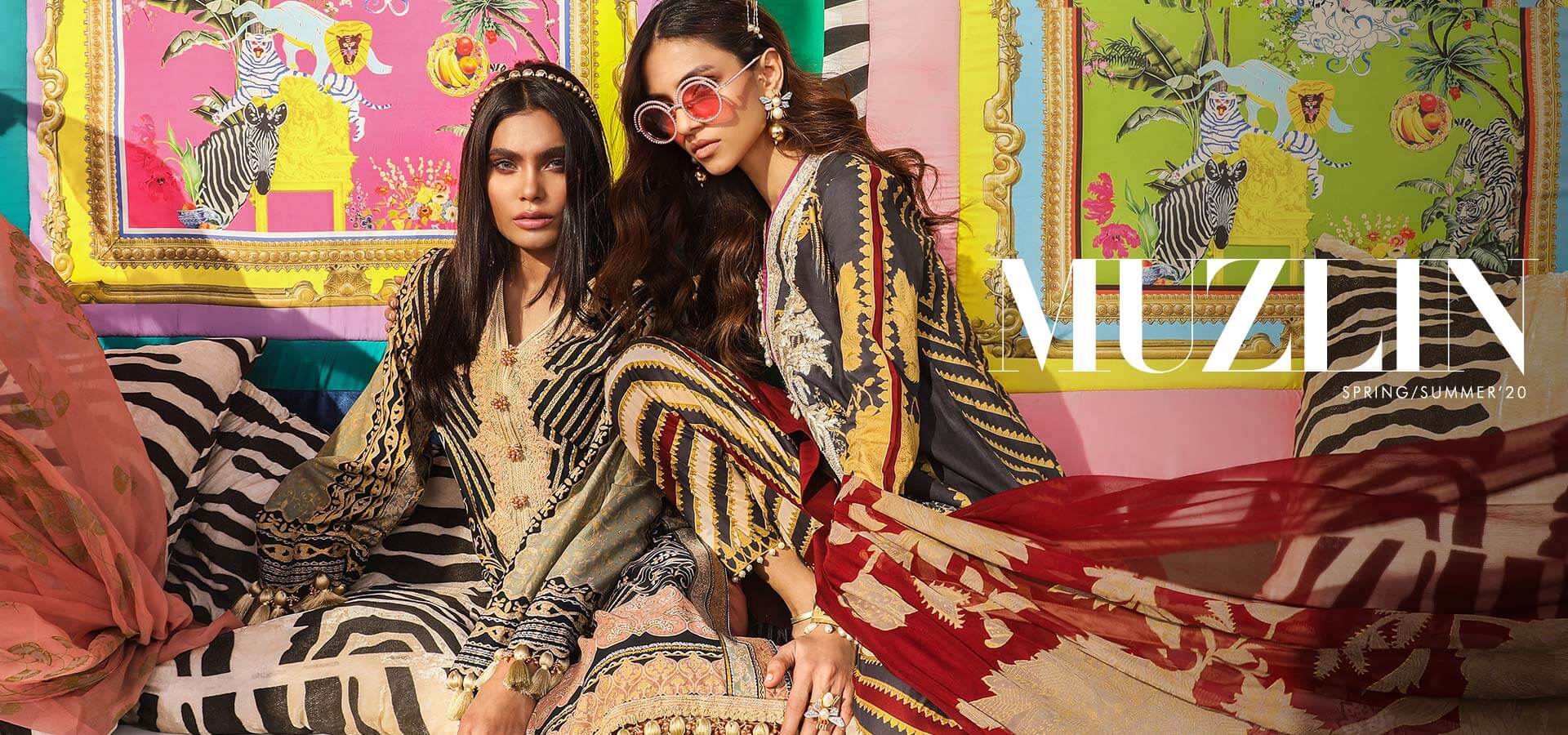 This Duo made it possible which seems impossible a few decades ago, indisputably the most luxurious brand by the Sana Hashwani and Safina Muneer running and managing the commercial business since 1989. The Duo is still as excited today as they were 30 years ago despite many highs and lows where most designers cannot stand out and disgruntled due to the filled to the capacity and stuffed with designs copied (replicas of Sana Safinaz lawn also gain huge popularity among middle class). Sana Safinaz is not only achieved the creative excellence in the fashion industry in 2019, but Sana Safinaz also celebrated being the 'Top 50' CEOs of Pakistan with more than a dozen LUX Style Awards.
The Sana Safinaz Studio lies on a busy commercial boulevard is called a 'woman wonderland'. In March 2019, Sana Safinaz launched its first 'MUZLIN' collection. Recognizing the importance of evolution, Sana Hashwani and Safinaz Muneer credit their team of young people and do not take the company's success at just their owns and believe that the evolution must move on.
Sana Safinaz is the country's top three 'ready to wear' brand is a trailblazer and introduced a concept of wearing 'LAWN' as a formalwear along with 'Chiffon and Silk Dupattas'. We wish Zuwair Hashwani and Sasha Muneer (Sana and Safinaz daughters) will make 'Sana Safinaz' a brand for the next generations.

SAPPHIRE
Sapphire is a Lahore based Pakistani high-street women clothing retailer which is a subsidy of the biggest public limited Textile giant 'Sapphire Textiles Limited'. Sapphire range of clothing has everything from un-stitched fabrics to ready-to-wear, haute couture, and daily and party and formal wear, scarves, and tunics.
Headquartered in Lahore, Sapphire was founded in 1940 in Calcutta before partition. It is the largest vertically integrated textile manufacturer with a workforce of more than 16 thousand employees and its products are exported to more than 35 different countries. Sapphire has no match with any other Pakistani textile conglomerate. Sapphire has a spinning capacity of more than 350,000 spindles and diversified into producing Electricity and Dairy Farming.
We concluded this blog by giving a piece of golden advice to our female readers:
"Keep your HEAD, HEELS & STANDARDS high"… Coco Channel